Whether for a ski weekend or a family vacation, enjoy the charm of the Villard de Lans resort in the Vercors massif.
Winter is anything but morose here in Villard de Lans. Our extraordinary location will delight guests of all ages. Villard de Lans will delight not only those who love skiing and sensation, but also those seeking rest and relaxation.
The hotel's location is perfect: we are in the centre of the village and close to all the activities proposed by this beautiful environment.
You'll love winter in Villard de Lans!!
Skiing in Villard de Lans
Villard de Lans, the largest ski area in the Vercors
125km of ski runs making the largest ski area in the Vercors. The resort has ultra-modern facilities to ensure excellent ski quality. The ski area has slopes for all skiers, from beginners to experts.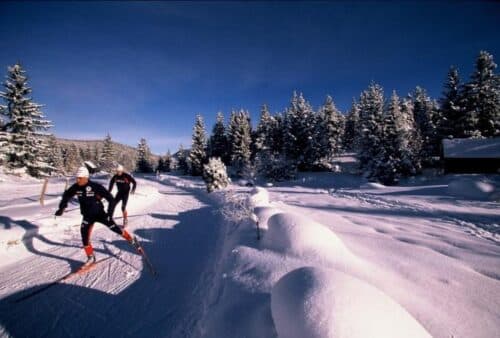 Whether you are looking for a simple outing or a real adventure, the Vercors Natural Park is at your disposal. With its 130km of cross-country trails and the immense remaining wilderness, the Vercors Natural Park is ideal for your excursions.
Practical informations for a wise holiday planning :
In season,a free shuttle, which the nearest stop is the bus station at 20m from our hotel, you actually settles to the slopes in less than 15 minutes.
Find all the shuttle timetables on the villard de lans tourist office website.
Villard de Lans has two ski gardens entirely devoted to families. Total safety for your very first ski experience, whatever your age. Laughter and fun for all to share in Villard de Lans.
Ski gardens near Villard de Lans:
Colline des Bains
Le Village de Ribambel